Fun! Inspiring! Enlightening! That's who we are. We hate this title "keynote speaking". It sounds like a wet log that doesn't have that "snap" or "pop" when it's ablaze! You see, we're a lot of fun and it really comes through when we're working! We don't deliver a rehearsed talk, we "speak with" your audience. We think a keynote should be the best part of a day, or the best part of a couple hours where audience participants can sit back, relax, and enjoy themselves. We want to see smiles, nods of approval and even a few tears. It's about being real, about being in the moment, about a feeling that grows inside that you have no limitations on the difference you can make.
To Kick Start you next program, please feel free to fill out our brief form (it helps US get kick started!). We are also available at (866) 289-9780 or (403) 289-9780. Please feel free to contact us via e-mail too at info@fireweed.com. We look forward to hearing from you!
Hire these "Fire Starters" for your next event:
Colin Collard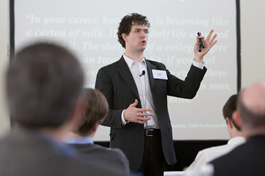 Colin Collard is a successful entrepreneur and a perceptive leader, with a hunger for experience that is contagious. As an entrepreneur, Colin is President of both the Fireweed Group Inc. and Past President of Complete Dental Ceramics Inc. Colin has held significant roles within the Young Entrepreneurs Organization; such as Calgary Chapter President and served on YEO's International Board for three years. An empathetic facilitator, Colin has honed his skills in over 4000 hours at the "front of the room," leading personal and professional growth seminars. As a trainer, he supports people and teams to better express who they are and what they want. Colin has traveled the globe presenting to and learning with entrepreneurs from Canada, the United States, Great Britain, Germany, France, Australia, Switzerland, Spain and Russia. Colin pursues challenges such as triathlon, cycling, squash and on-going learning; he has a Masters of Arts in leadership and training from Royal Roads University in Victoria, British Columbia. Colin is connected, honest, and open with any audience. He is a gregarious presenter that sparks an appetite for life in all its twists and turns.
Michelle Bellas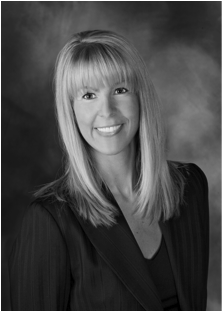 Michelle Bellas is a facilitative leader and a strategic thinker who has a passion for both learning and leadership. Upon finishing her Bachelor of Commerce degree in 1994, Michelle joined RBC Financial Group and invested the next decade mastering a variety of positions including: Branch Manager, Organizational Change & Leadership Consultant, and Facilitation Specialist. Michelle finished her Masters of Arts degree in Leadership in 2004, completing an applied thesis researching leadership at the senior executive level of RBC. After working with, and learning from, leaders of a multi-national corporation for over a decade, Michelle became a Managing Partner of Fireweed Group Inc.. She now assists entrepreneurs with marketing, team building, leadership and personal development. She lives in Calgary with her husband Colin and their 11 month old daughter Kiera.
We hope we have sparked your spirit! Please feel free to call us at (866) 289-9780 or (403) 289-9780. We can also be reached at info@fireweed.com.